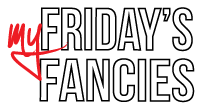 I am so excited to share with you my very first
Friday's Fancies
post! FF is a fabulous, weekly themed post event hosted by {AV} over at
Long Distance Loving
. Join me here each Friday as I share my take on the week's theme and be sure to head over to LDL where you'll find a link-up of all the other bloggers who are also participating.
So without further ado...
This week's theme is Costume Prep! While a lot of bloggers might be sharing inspiration for their own costumes, I am not. My friends and I are having a Halloween party next week and some of us have chosen to keep our costumes a secret. So today I've come up with a second fabulous costume - Cruella de Vil! Although she is undoubtedly a horrible person, Cruella sure has style and that is all that matters.. when choosing a costume, of course! I love how for her it is absolutely acceptable to be completely over-the-top! She seems like such a fun character to play. I will definitely consider dressing as her next year! What are you planning to be for Halloween? Are you sharing with everyone or keeping it a secret like I am?
♥
Jordan